Ramazani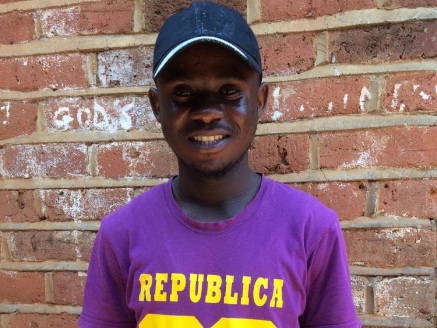 By Maxwell Evans
"I want to become a programmer to do an application that can assist the old. If you are in need of something, I want that app to help you."
To Dzaleka resident and techie Ramazani, life at the camp is similar to life back home in the Democratic Republic of the Congo. That's a good thing, he says, because — just like in Uvira, his hometown — he is able to maintain constant contact with his brother.
"The thing that reminds me of home is because where I am living is with my brother," Ramazani said. "I'm reminded of where I came, the way I was living with my family."
Ramazani shares everything with his brother, from an immigration card to food rations to dreams of leaving Dzaleka.
He hopes for a favorable settlement with the United Nations High Commissioner for Refugees and immigration officials from another country — one allows the two brothers to live abroad, together.
"He's the only family I have in this camp," he said.
It's not as if Ramazani clings to his brother's side, however; he's a social guy. He says he spends most of his free time making plans and socializing with friends around the camp, and regularly invites those same friends to relax at his place at the end of the day.
Ramazani stays active by playing football and tennis, but his true passion — and the subject of his studies at the camp — is technology. He's learned Java, a computer programming language, and is in the process of learning HTML so he can create websites.
"When I came to this camp, I met people that are coding," Ramazani said. "I want to become a programmer. I learned Computer Basic and then I went to that school to apply."
Web design is a useful skill, he said, but he's not interested in making a career out of it.
Ramazani's more interested in other aspects of programming and information technology, and has become known as a go-to for tech troubles. Whether residents need help downloading books for class, creating a social media account or figuring out a connectivity issue, Ramazani is ready to assist.
A native French speaker, Ramazani has been learning English since he left the DRC. He hopes to connect with programmers in America and develop apps that help people, especially the elderly.
In preparation for a career in IT, he's turned his know-how into something of a small business, charging "two or three dollars" in exchange for his tech services. He has also been trying to teach older camp residents how to use computers and iPhone 4s, which are essential tools of communication in the camp.
Ramazani's close ties with his brother, friends and neighbors provide stability in his life, but he is not selfish.
Although he's been there for three years, Ramazani knows Dzaleka is intended to be temporary, and celebrates with friends when they get the long-awaited news that they've been accepted for placement in another country.
"When I hear some friend is going out of Africa, I'm usually happy with them," he said. "They've been [going to] Australia, to Canada."
The three-year wait for his own placement has been frustrating, but Ramazani keeps things in perspective. He and his brother are "still waiting for [the UNHCR] to call us, but there's some people from this country that take even 15 years" to be resettled, he said.
Camp life alongside his trusted family member may soon be coming to an abrupt end, however. His brother applied to attend school in Canada, and Ramazani said if he is accepted he is likely to leave the camp to continue his studies.
The thought of being separated sometimes saddens Ramazani, but he also understands that a Canadian education — and a shot at leaving Dzaleka — would be too significant an opportunity to pass up.
Right now, though, his brother has not yet heard back from his dream school, and the cost of applying to its online courses is too prohibitive.
"There is some school online, but when you are applying you have to pay," Ramazani said. "For us refugees, we don't have money. I don't know how we're going to learn online."
So the two brothers continue to wait.
"We don't know what awaits us in the future," Ramazani said. For now, "we are going to get help from the UNHCR so that we can live."