Theodette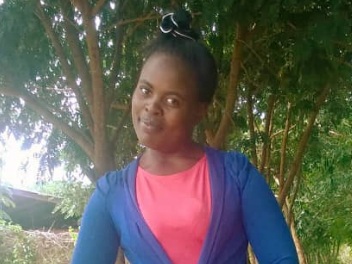 By Ashleigh Beauchamp
"Even if I faced more problems here in camp, I'm happy because I have life — I'm still breathing."
For Dzaleka resident Theodette, daily life can be a struggle sometimes, so she makes a point to maintain her faith and positivity.
The 22-year-old Rwandan has lived at the camp since she was 3, but she has been uprooted from her home country since she was "very young."
Her father left the family in 2005, so she lives in Dzaleka with only her mother. To help her mom out, she harvests beans at a nearby farm, although she doesn't consider that to be her "job," per se.
Farm work can be tiring, but she's grateful for the opportunity.
"I like it because the same beans will be used as our delicious food," Theodette said. "I can even sell them for me to buy other needs like soap, a basin and so on."
Money is tough to come by in Dzaleka, given that job opportunities for refugees in Malawi are limited or denied altogether. So Theodette appreciates the assistance camp residents receive from the Malawian government, the United Nations High Commissioner for Refugees and other organizations large and small.
These organizations assist refugees during their move to the camp, helping them find food, shelter and educational resources. Unfortunately, residents often cannot receive the assistance they need once they're settled, she said.
"We also face the challenges, like having a shortage of food, electricity, and land for farming," Theodette said. "They provide us with the services, like education and health, even though it is very (limited)."
Some days she doesn't have food; other days she doesn't have firewood or soap to wash her clothes and body.
Sometimes her life of poverty fills her with anger, but Theodette always at least tries to keep a positive outlook.
"It's not every day, but I put myself in a happy mood no matter the problems I face and am passing through," she said. "I thank God for the gift of life which he has given to me."
To help fill the gaps in services, Theodette volunteers her time as an English teacher and interpreter for Dzaleka residents. She's known the language since she was four years old.
Her typical day goes like this: Early in the morning, she teaches children English before spending the rest of the morning as an English interpreter for her neighbors. In the afternoon, she continues teaching the language to residents of other ages.
Theodette considers herself a "cooperative person" with a friendly smile, traits that have helped her make many friends as she volunteers her time in Dzaleka.
Her community work keeps her mind active — something that's important to her since she can't afford to attend university.
"I don't have any chance of going further with my education, so that's why I decided to be assisting our community like that," Theodette said. "There is no university which can (accept) me without fees."
If she's ever able to save up enough, Theodette would like to study medicine with the hopes of becoming a doctor. She draws inspiration from a former Dzaleka refugee who was sponsored to attend a Chinese university before returning to Malawi to work as a doctor.
As a feminist, Theodette wants to provide similar motivation for other young women to believe in themselves and their dreams.
She is all too familiar with the financial struggles that prevent people from attending university, so it's her life goal to help out ambitious students with few resources.
"I want to increase the number of doctors — especially for girls — so that others can emulate me and see that everything can be possible for girls also," Theodette said. "As the claim says: 'Education is a key to succeed.'"
Theodette doesn't let her own lack of resources get in the way of her humanitarian efforts and her activism. She makes sure to speak to everyone "without discrimination" and uses her free time to build community and skills with fellow Dzaleka residents.
She thinks the world could be a little better off if everyone else thought and behaved the same way.
"My thoughts are to encourage other people from different countries to cooperate with refugees, because they are people like them," Theodette said. "They have to assist the refugees as much as possible."